Aluminium Bi-Fold Doors, Southampton
Professionally Crafted Bi-Folding Doors in Southampton
Novaseal prides itself on its high quality products, working with only the very best, industry-leading manufacturers of windows and doors so that we can be sure that our customers are getting bi-folding doors that are hard-wearing, high quality and perfectly complementary to their property in Southampton and in the surrounding areas.
When it comes to aluminium doors, we work exclusively with AluK as a partner, being a market-leading company for the design and manufacturing of aluminium doors. Their extensive catalogue of styles and designs, as well as their sturdy and hard-wearing, thermally efficient products are the perfect choice for you if you are looking for easy-to-operate, highly fashionable and efficient doors for your Southampton property.
With freely customizable designs that you can design yourself down to the smallest specification, your new bi-folding doors are ensured to suit whatever type of property they are installed in. If you have any questions about any of our products or services, feel free to call us on 01329 233500. However, use our free online quotation tool if you want to get quick and immediate competitive quotes for your dream door installation from Novaseal today.
---

The Positives of Bi-Folding Doors
Bi-Folding doors are a great, modern alternative to Patio or French Doors, able to open up your property to the outside world without impeding on the available floor space. With dimensions that allow it to stretch for the entirety of your wall, you can bring the inside of your home to meet the outside, allowing for ease of access into your garden, as well as outstanding, unimpeded views and excellent ventilation. Unlike patio doors, bi-folding doors are made of separate segments that can be folding back in a concertina shape that can be opened either inwards or outwards to maximise your available space, as well as be opened individually without opening up the whole wall if you don't want to.
With slimline frames, these individual segments are predominantly glass, bringing in light into your room and providing excellent views without even having to open them up. With the doors open, you can truly feel connected with your garden and outside areas, as well as providing ventilation and cool air in from outside during hot weather, preventing your house from becoming stuffy. You will find yourself using your outdoor areas even more after the installation of these doors, acting almost like a continuation of your room.
---
Benefits of Aluminium Frames
uPVC is by far the most commonly recognised material when it comes to double glazing products, but it is by no means your only available option. In fact, bi-folding doors, like windows, can come in both aluminium and uPVC. Aluminium is a great alternative to uPVC as, unlike its white resin counterpart, it is far sleeker and more minimalist in appearance and provides equally sturdy and outstanding security and insulation. All of our doors and windows feature top-of-the-range modern technology, whilst not compromising on their appearance.
Aluminium frames are light-weight and easily moulded, making them very easy to install. Made from naturally occurring metal, aluminium is also far more environmentally friendly, as well as their thermal efficiency also aiding in reducing your carbon footprint. Hard-wearing and durable, these doors are sure to protect your property from both the harshest weather and any unwanted intruders on your property.
Unlike uPVC, aluminium frames do not suffer from discolouration or warping from exposure to the elements, and in fact require very little upkeep from year to year. In fact, typically the only maintenance required is the occasional wipe down with a damp cloth to clean away any residual grime that might impede your view.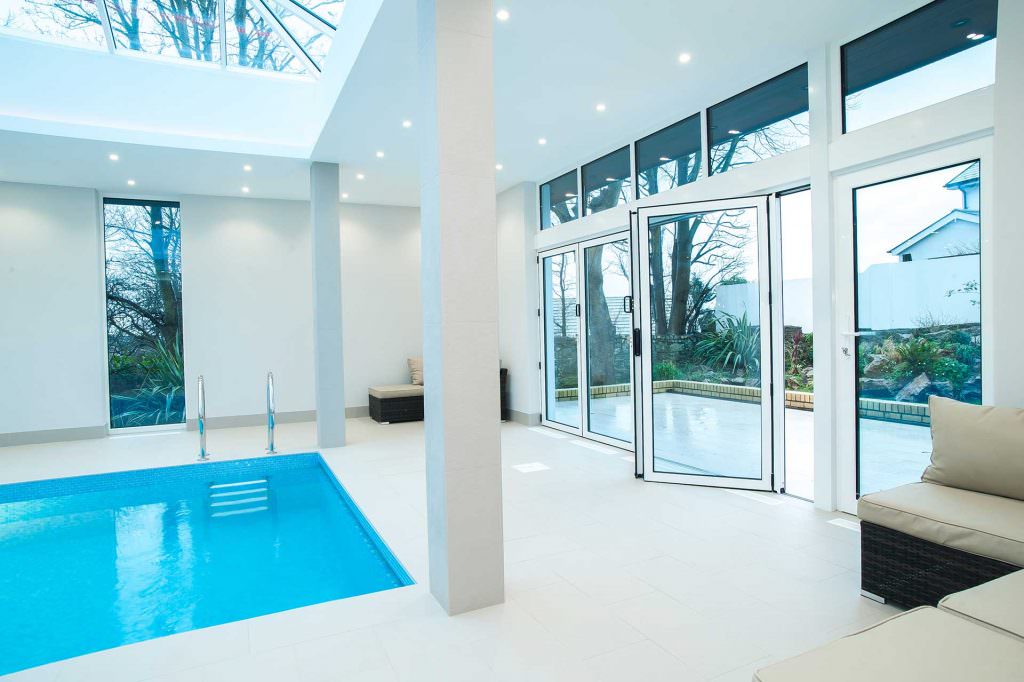 ---
Easily Customizable
Choosing the right material for your door isn't the limit to the personalization options for your bi-folding doors, however, as these products can be made bespoke to your specifications in many ways, including colours and styles.
Bi-folding doors can come in many different dimensions, from a relatively small patio-door sized opening to stretching for the entire length of the wall. This allows for you to fully open up your interior space and incorporate it into your garden space, bringing the inside out and the outside in. All of our doors also come with personalizable hardware, including different colour options for handles and even the hinges.
Additionally, the frames of your doors don't have to be the plain grey of typical aluminium; they can in fact be made to be practically any colour you can think of. Our online quotation engine supplies a few base, suggested colours including black, white, red, brown and green, but you can also input your own colour option. Simply find the right colour on an RAL colour chart online and input the colour into the calculator, you will find that your door can be any colour under the sun, from yellow to pink and more!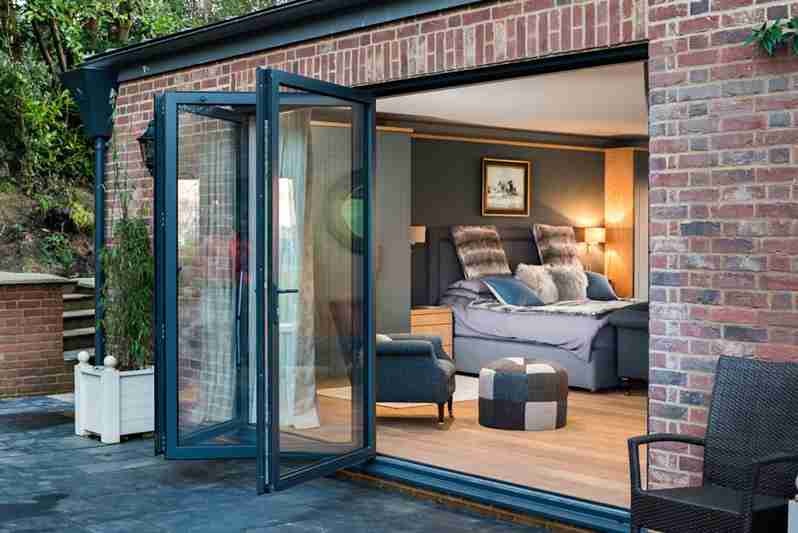 ---
Bi-Folding Door Prices, Southampton
Novaseal is proud to supply a range of high-quality, competitively priced double glazing products to both residential homeowners and commercial customers throughout Southampton and the surrounding areas. No matter what kind of project you are working on, we will ensure that your bi-folding doors are perfectly suited to both your properties overall style and your own personal taste. All of the products we supply come with a manufacturer's warranty, so you can be sure of a high quality installation.
If you have any questions about any of the products that we offer or our installation service, do not hesitate to give us a call on 01329 23350o or use our online contact form, and one of our team will be in touch with you as soon as possible.
Alternatively, if you want to get started on finding your best competitive quote for your property in Southampton, please use our free online quotation tool and tell us what kind of bi-folding door you are looking for.
Your ideal bi-folding door is just a few clicks away!