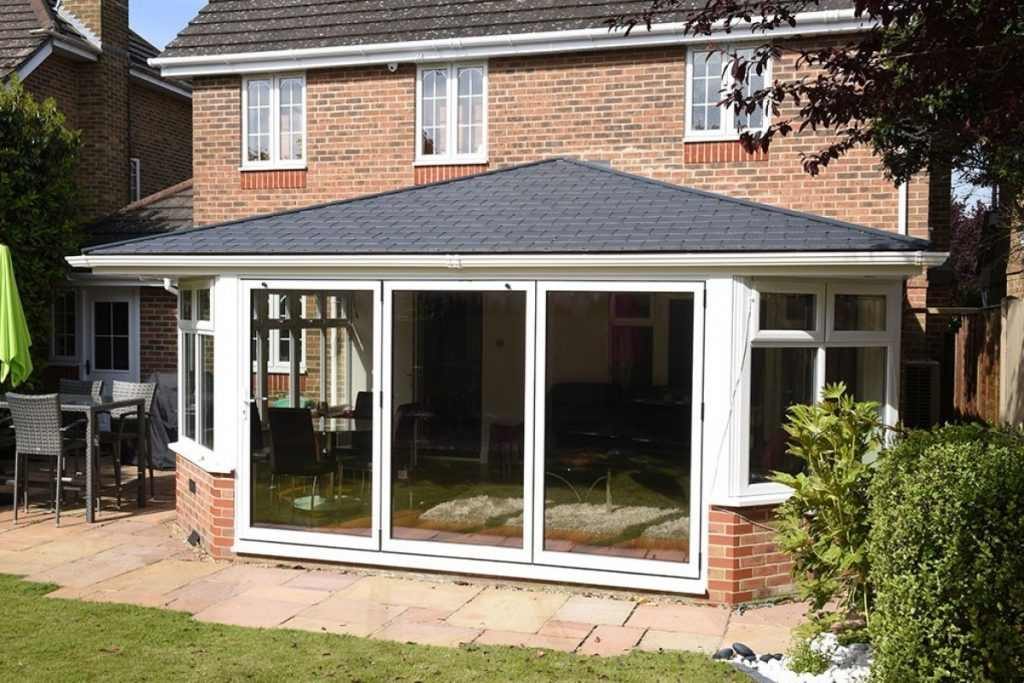 Our clients, Mr and Mrs Ball, wanted a relaxing living area to add to their home. They decided a conservatory was the best option to widen their space with elegance.
Mr Ball discusses his decision, saying, "A conservatory was a perfect solution for us, our objective at that time was to create a space that made the garden feel more accessible so even on a dull day we could enjoy it without getting wet!"
Mr Bell voiced his concerns with his previous conservatory, as he says: "The conservatory was a bit drab on a dull day, but by stark contrast, on a bright day the glare through the polycarbonate roof was just horrendous. It made it impossible to view any sort of screen, even wearing sunglasses the conservatory was just too bright.
Maintaining the roof was also problematic, over time, the roof had discoloured, and it was quite a big job to keep it clean. Our other concern was the noise – on a wet day, which is often the case – the conservatory was unusable because of the rain bouncing off the roof.
Similarly, the temperature was hard to control. It didn't deter us from using it, but we were always aware of being too hot or too cold."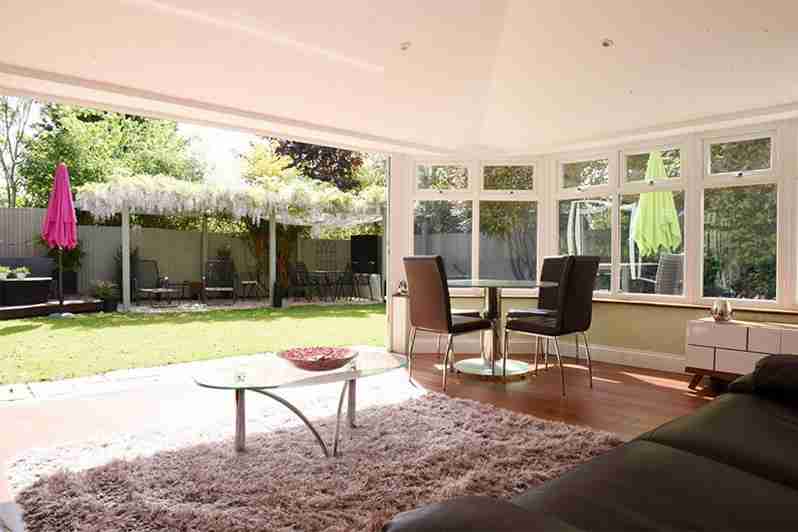 Therefore, with concerns about their current conservatory feature, Mr and Mrs Ball decided to update it. They toyed with the idea of a glass conservatory roof, to modernise the space. However, due to the glare, they decided against it. This is because they wanted a living area, so they wanted the highest level of privacy and heat retention.
They decided to opt for a tiled conservatory roof for their new installation. They were already aware of the benefits of a roof from Novaseal, so they got in touch with us.
"We knew about Novaseal, and we knew that they'd started installing solid roofs as well as traditional glass, so we knew we were in safe hands with our choice to switch to a fully solid roof."
In the knowledge of our expertise and efficiency, Mr and Mrs Ball asked us to supply and install a stunning replacement roof. Their goal was to make the room warm and utilise as much heat as possible.
Our team suggested Ultraroof from Ultraframe was the perfect solution. Ultraframe are trusted suppliers of our materials, with their Ultraroof providing the benefits that Mr and Mrs Ball sought after.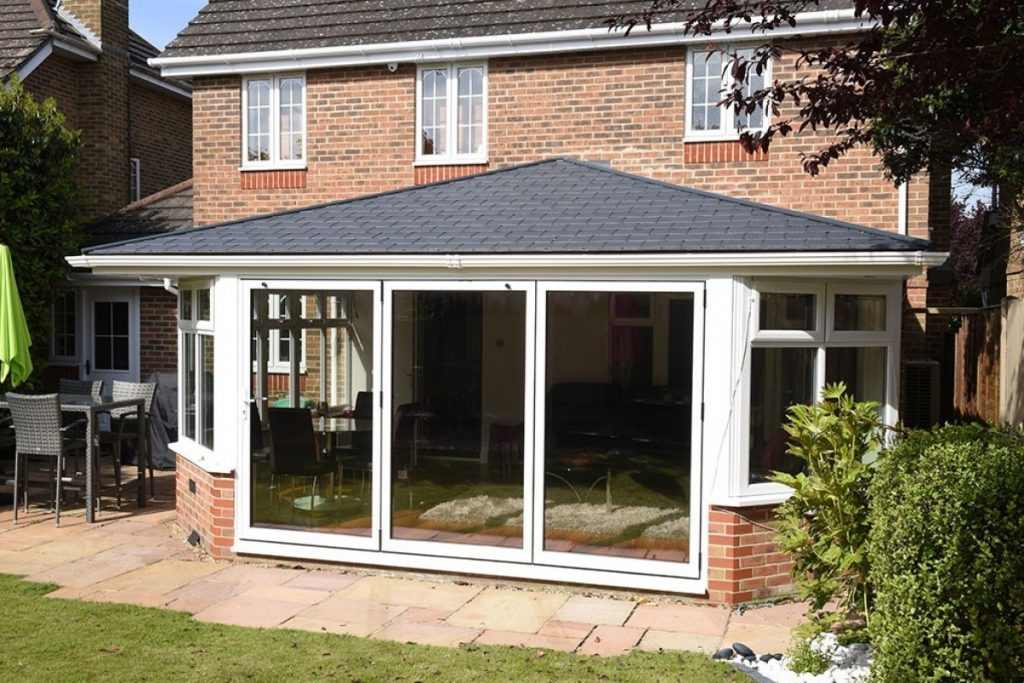 Externally, you can see the beautiful room seamlessly fitting in with the aesthetic of the Ball's home. While the tiled conservatory roof doesn't let light in, the room brightens with the beautiful bifold doors installed. Lining the bottom of the windows, a dwarf wall was designed for a traditional touch with an otherwise modern build.
The Project
As the conservatory was 18ft by 15ft in depth, it felt like an extension of the house. This is why our roof installation needed to blend effortlessly with the look of their home. The grey tiled conservatory roof fit with the overall theme.
Mr and Mrs Ball were thoroughly pleased with their new roof, which they could use all year round. Previously, they would only have used their conservatory during the summer, but with Novaseal's installation, it utilised the heat, making it warm year-long.
The Result
Following the fitting, Novaseal upgraded the fascia and guttering to ensure a thorough job ensued. We wanted Mr and Mrs Ball to have no hassle during the process.
Mr Ball was happy with the decision to have a tiled conservatory roof installed with us.
He praised the work, saying "We've incorporated huge bi-folds into the design so, from a light perspective, the room still feels bright and airy. We always enjoyed the conservatory, yes it came with its compromises, but we enjoyed many happy times in there.
Now building technology has moved on we're delighted that we've been able to take advantage of the Ultraroof. Novaseal has done a fantastic job, it's total in-keeping with the rest of our home and has become our favourite space."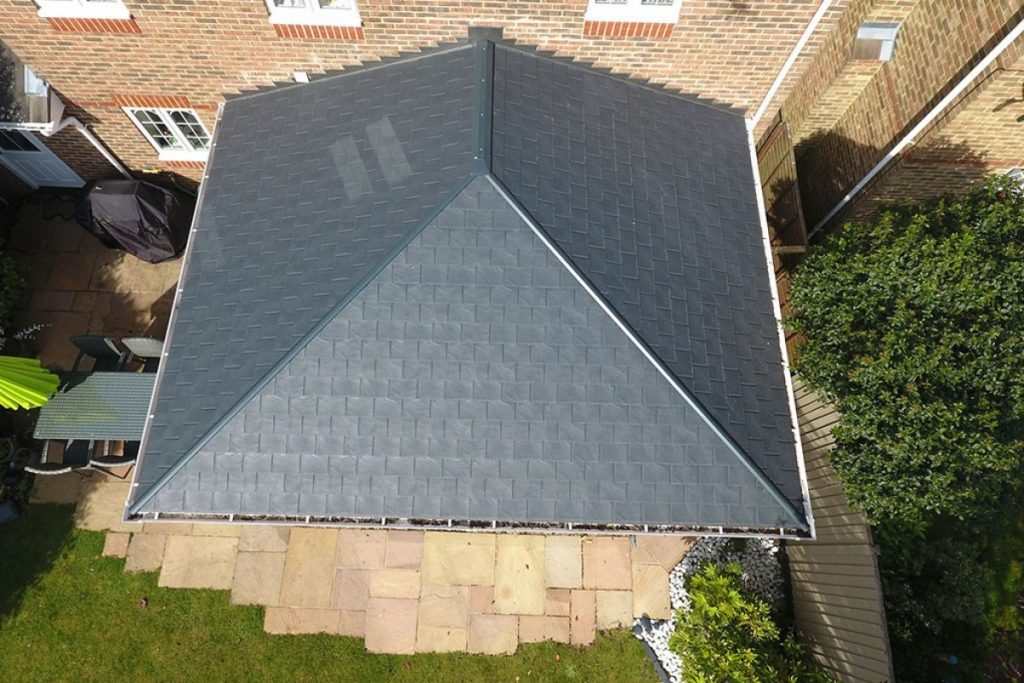 Why choose an Ultraroof with Novaseal?
An ultraroof provides exceptional benefits with its thermal efficiency and privacy. Additionally, the robust structure is a step above glass installations, which means your feature will last.
Whether you opt for a new conservatory, an orangery or a beautiful extension, we can accommodate you with our tiled conservatory roof. Or if your current roof is in desperate need of repair like Mr and Mrs Ball's, an Ultraroof is the best option.
With an Ultraroof, you can customise the features to suit you. Modern lights and speakers can be added to the insulated pelmet that runs along the perimeter.
The columns holding up the tiled conservatory roof are five-times more thermally efficient than using brick. This will make your extension a comfortable temperature all year round.
A tiled conservatory roof is also lighter than any other that's available on the market.
With Novaseal, you get quality every time. Get in touch with us today via our contact page.